A new breed of hostels are all about luxurious upgrades.
When we think of hostels, luxury isn't usually the word that comes to mind. But these days, staying in one doesn't have to mean bare-bones amenities and sleeping in a room full of 15 strangers. Upscale hostels, complete with wine and cocktail bars, rooftop terraces with sweeping views, and in-house gyms, are popping up all over the world—and they've inspired us to reconsider. A few of our favorites: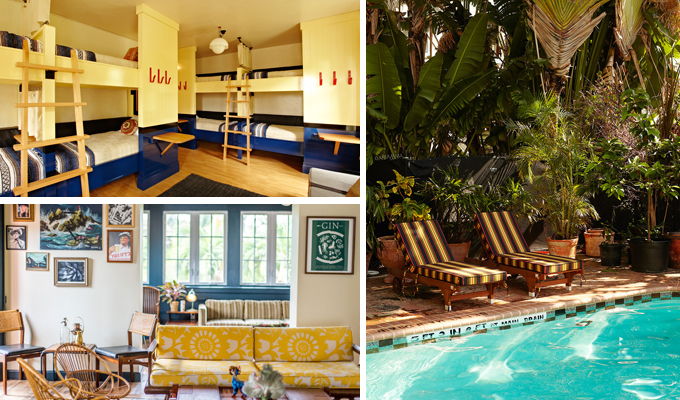 Freehand Miami
Located just one block from the beach, Freehand seems to have it all—from bicycle rentals and an outdoor pool, to a specialty mixology bar from the duo behind Miami's acclaimed Bar Lab and its very own vegetable garden. Inspired by the city's historic Indian Creek Hotel, a classic 1930s art deco building, Freehand is one of the most high-styled hostels out there—they collaborated with the award winning Roman & Williams team (famous for Ace New York and the Top of the Standard on the Highline in NYC) on the design. Private rooms and shared rooms (up to eight people) are available.
Plus Hostel Berlin
With its indoor pool and free yoga classes, this Berlin hostel makes it easy to keep your workout routine in play while you're traveling abroad. Once you've sweat it out, make sure to check out the rooftop bar, the outdoor courtyard sprinkled with local art, and grab a bite at the restaurant (open for breakfast and dinner). Rooms feature various private ensuite options (single, double, twin, triple), with flat screen TVs, wifi, hair dryers and other amenities. If you're feeling adventurous, check out the dorm bunk bed options.
Generator Paris
This Paris hostel, the newest from the Generator brand (which boasts a string of locations in London, Berlin, Venice, Barcelona, Copenhagen, as well as several more on the horizon), is located in the trendy 10th Arrondissement above Canal St. Martin. In keeping with the rest of the Generator properties, Anwar Mekhayech (whose clients also include Soho House and Momofuku) oversaw the design of this Paris hotspot. Highlights include the locally sourced food on offer, the rooftop terrace with views of Montmartre and Sacre Coeur and the multiple private room options.
Kex Hostel
Situated in an old biscuit factory in downtown Reykjavik, (kex is the Icelandic word for biscuit), this 132-room hostel is one of the most highly rated options in Iceland. The design elements, with its mid-century furniture and lighting fixtures hailing from old German bombproof bunkers, are reminiscent of the Ace Hotels. Enjoy a cocktail at the stylish bar Drinx, get a trim at the in-house barbershop, or stop by the multipurpose hall Gym & Tonic. Styled as an old-school boxing room, the space functions as a meeting room, concert hall, gym, and movie theater. Private rooms and dorm room-style lodgings are available.
The Bivvi Breckenridge
Recover from a day of skiing in the outdoor hot tub overlooking Ten Mile Mountain Range, warm up by the fire with a glass of wine or grab a beer (there's a solid selection of brews available, both on draft and bottled) at Bivvi Bar. This Colorado gem, just a short walk from the center of town, is perfect for a weekend getaway in the mountains. Bonus points for the ski/board/bike storage, complimentary breakfast and wifi throughout the property. The hotel's best option is the Super Suite, which includes LED flat screen television, a private balcony, a fireplace, a Pinewood king bed, vaulted ceilings and more.